New England Environmental Finance Center
"High quality water is more than the dream of the conservationists, more than a political slogan; high quality water, in the right quantity at the right place at the right time, is essential to health, recreation, and economic growth."
— Edmund Muskie
Founded in 2001, New England Environmental Finance Center (NEEFC) seeks to advance the shared goal of US EPA and the Edmund S. Muskie School of Public Service at the University of Southern Maine to research, publish, and extend creative approaches to environmental policy, protection and management, especially the associated questions of how to pay for needed environmental improvements.
New England EFC strives to build the capacity of public and private clients throughout New England and the nation to pay for the growing costs of protecting the environment and to be better prepared to manage the chronic and acute problems of environmental protection and finance.
New England EFC works on projects with subject matter experts and technical support specialists at the University of Maine system and in the private and public sectors. Under the Direction of Martha Sheils, the New England EFC engages in projects that meet the mission of the 10 national EFC's to provide innovative financing solutions to manage state, local and tribal environmental programs.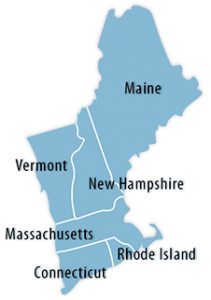 The 10 EFC's have the flexibility to focus on the needs of their regions; The New England EFC's projects reflect the greatest needs the 6 New England states in EPA Region 1. Some of these are climate change adaptation and resiliency planning, stormwater financing assistance, long term water utility resiliency including source water protection, natural and green infrastructure, and environmental financing policy for state, local and tribal entities.