New England Environmental Finance Center
"High quality water is more than the dream of the conservationists, more than a political slogan; high quality water, in the right quantity at the right place at the right time, is essential to health, recreation, and economic growth."
— Edmund Muskie
Founded in 2001, the New England EFC strives to build local capacity in communities and to better prepare them to manage the chronic and acute problems of environmental protection and finance. 
The New England EFC delivers targeted technical assistance to, and partners with, states, tribes, local governments, and the private sector to provide innovative solutions to fund and sustainably finance climate resilience actions. 
The New England EFC is one of 10 National EFC's, and a member of the Environmental Finance Center Network, or EFCN. The EFCN Members are made up of university-based organizations creating innovative solutions to the difficult how-to-pay issues of environmental protection and improvement. The EFCN works with the public and private sectors to promote sustainable environmental solutions while bolstering effects fo manage costs.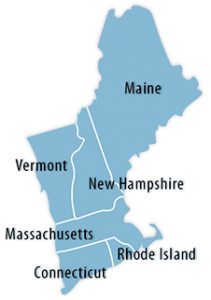 The New England EFC's projects reflect the greatest needs of the 6 New England states in EPA Region 1 such as climate change resiliency planning, stormwater financing, natural and green infrastructure, and water utility resilience, including source water protection.  
The New England EFC administers the Southeast New England Program (SNEP) Network. The SNEP Network provides training and assistance to municipalities, organizations, and tribes to advance stormwater and watershed management, ecological restoration, and climate resilience in Rhode Island and Massachusetts. The network is committed to building capacity in conjunction with EPA's Southeast New England Program within EPA Region 1.