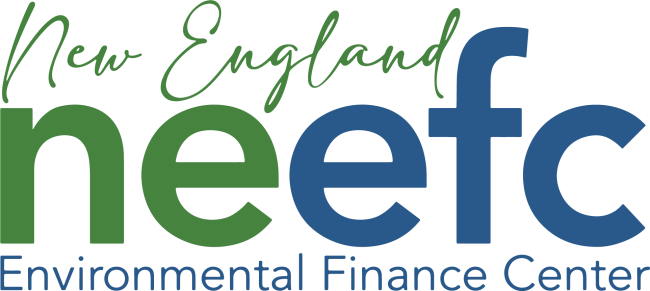 Our mission is to provide innovative financing solutions that help states, tribes, local governments, nonprofits, community-based organizations, and the private sector pay for environmental projects.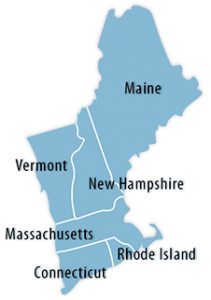 Since 2001, the New England Environmental Finance Center (NEEFC) at the University of Southern Maine has worked to build local capacity to pay for the growing cost of protecting critical environmental resources and fostering resilient communities.
Our programs reflect the greatest needs of the 6 New England states including funding and financing of climate adaptation and resilience, stormwater and nutrient management, water infrastructure, and sustainable operating practices.
"High quality water is more than the dream of the conservationists, more than a political slogan; high quality water, in the right quantity at the right place at the right time, is essential to health, recreation, and economic growth."
— Edmund Muskie, Former U.S. Secretary of State, Senator & Governor of Maine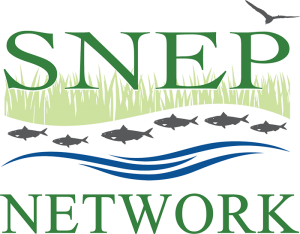 The NEEFC administers the Southeast New England Program (SNEP) Network. The SNEP Network provides training and assistance to municipalities, organizations, and tribes to advance stormwater and watershed management, ecological restoration, and climate resilience in Rhode Island and Massachusetts. The network is committed to building capacity in conjunction with EPA's Southeast New England Program within EPA Region 1.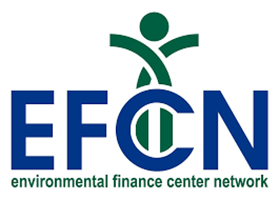 As part of the Environmental Finance Center Network (EFCN), the NEEFC is one of 10 regional centers supported by the U.S. Environmental Protection Agency. Together the EFCN is a collaborative of university-based organizations working to create innovative solutions to the difficult how-to-pay issues of environmental protection and improvement.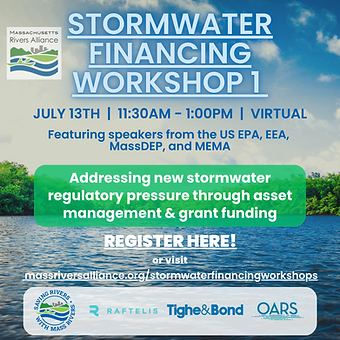 Free Virtual & In-Person Stormwater Financing Workshops!
 July 13, July 26th, and September 12th
Mass Rivers Alliance is offering a 3 part Stormwater Financing Workshop Series in July and September to help municipalities learn about, and take advantage of, short- and long-term funding solutions for stormwater management. The Series has been developed with expertise from partnering organizations OARS, Raftelis, and Tighe & Bond to meet the financing needs and interests of Massachusetts municipalities, and non-profits working directly with communities.
The workshops will guide communities in evaluating a variety of funding opportunities and will provide tools for developing long-term revenue streams through stormwater utility fees. This is an opportunity to learn from state and federal agencies, local municipalities, and regional environmental and financial consultants. Interested members of the public may also join.
Featured Funding Opportunity
Drinking Water System Infrastructure and Sustainability Program
Environmental Protection Agency (EPA), Office of Water, Office of Ground Water and Drinking Water


Submission Deadline: Monday, November 6, 2023, 11:59 PM Eastern Time. Questions must be submitted via e-mail by Monday, October 16, 11:59 PM Eastern Time.
Grant or Loan? Grant 
Who's Eligible? Public water systems, Tribal water systems, or states on behalf of an underserved community. Applicants must serve a community that is a) underserved; and b) meets the disadvantage community criteria established by the State; or c) has a population under 10,000.
Purpose: To assist public water systems in underserved communities, small or disadvantaged, that are working to prepare for and reduce vulnerability to impacts from climate change ranging from extreme flooding to extreme drought.
Eligible Activities: Planning, design, construction, implementation, operation, or maintenance of a program or project that increases drinking water system resilience for underserved communities to natural hazards. 
National Priority Areas: Applications must address one of the National Priority Areas that support the EPA's strategic plan: Area 1) Small-Scale Investments to Help Drinking Water Systems Implement Resilience Measures or Area 2) Large-Scale Infrastructure Improvements to Enhance Drinking Water System Resilience.
Funding Availability: Area 1: 10-20 grants ranging from approximately $285,000 up to $570,000, to be be spent over 1-4 years. Area 2: 2-5 grants ranging from approximately $2,660,000 up to $6,650,000, to be spent over 1-4 years. 
Contact: Direct any questions to Resiliencygrant@epa.gov.
Looking for additional funding opportunities?