Sustainable Operating Practices
Businesses in the food and beverage sectors are increasingly interested in incorporating and marketing environmentally sustainable practices. We help businesses, including breweries, hotels, and restaurants, identify best practices and implement them in their day-to- day operations.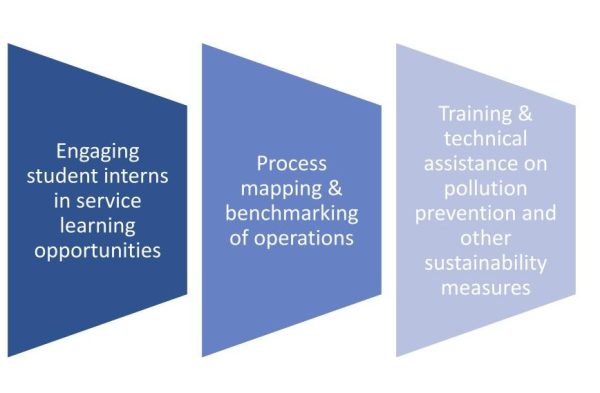 Sustainable Operations for Craft Brewers
New England craft breweries are a fast-growing industry in number and in influence. This growth presents an opportunity for improving sustainable operating practices by managing the impact of the significant throughputs of energy, water, and waste, as well as issues relating to wastewater generation and demands on local wastewater treatment plants. The NEEFC is partnering with the University of Southern Maine, the University of Massachusetts at Lowell (UMass Lowell) Toxic Use Reduction Institute (TURI), as well as partners in New Hampshire and Vermont, to deliver technical assistance to brewers to inform best practices and standards to enhance and advance the already sustainably-minded brewing industry executives actions in New England and beyond. The NEEFC advances craft beverage sustainability through technical assistance and the implementation of the New England Sustainable Craft Beverage recognition program.
If interested in participating in the New England Sustainable Craft Beverage Program contact EFC@maine.edu.
Waste Reduction in Schools
Over half of a school's daily trash is generated in the cafeterias. Roughly 50% of that "trash" consists of recyclable items and roughly 25% is food waste that can be composted. When students and staff sort their leftovers into recycling bins and composting buckets, the volume of trash is significantly reduced – on average, by 75%.
Schools have a unique opportunity to promote environmental literacy and stewardship and engage the next generation of environmental leaders. Students have the opportunity for Service Learning in a hands-on program that connects science, technology, engineering, and mathematics (STEM) with best practices of sustainability.
| | |
| --- | --- |
| | Assessment of Alternatives to Cleaners and Sanitizers for the Brewing Industry The laboratory at the Toxics Use Reduction Institute at UMass Lowell (TURI) completed an evaluation of common cleaning and sanitizing chemicals and potential alternatives. Cleaners and sanitizers were tested based on their ability to remove soils accrued in the primary brewing and fermentation processes, as well as to ensure sanitization of the tanks between uses. |
| | Alternative Cleaner Trial: Island Dog Brewery in South Portland, Maine-NEEFC. The New England Environmental Finance Center partnered with Island Dog Brewery located in South Portland, Maine, to trial an alternative cleaner highlighted in the Assessment of Alternatives to Cleaners and Sanitizers for the Brewing Industry by the Toxics Use Reduction Institute (TURI). Island Dog Brewery expressed interest in an alternative vat cleaner to limit exposure to harmful chemicals and to reduce operational environmental impact. |
Find these and other resources on the 
Resource page
.